So, there are soooo many things that I truly love, aside from friends and family and I really like to share, so here you go - another 10 things that I truly love! You can see a few things I listed last summer at
THIS
post. ( I should say that I do NOT get free products or payment from anyone, this is really just a list of things that I'm lovin' in life right now and want to share!)
1. Boots Hand Cream - Apparently it's a UK thing. I was introduced by my friend Rhiannon and now I think I have to keep a tube with me at ALL times! You can find it at Target and it's inexpensive, smells divine and feels amazing!
2. Aquaphor Ointment - I discovered this after my last foot surgery. It was an amazing moisturizer for skin that had lived in a cast for far too long. I still use it on my feet with socks at night to keep a pedicured foot nice and smooth and I was just given the tip the other day to use it in place of chapstick or carmex for smooth and supple lips as well! This one you can find at any drugstore.
3. Sweatshirt Blanket - Now, the picture is not the one I have, but I love, love, love a sweatshirt blanket and suggest you RUN to get yourself one. the one I have was a promotional giveaway for a product that I sell, so I'm not sure where you can get them, but they're so comfy and cozy and perfect for curling up on the couch. Search your heart and soul out for this - it'll be worth it, I promise!
4. Water Mix-ins - I hated drinking water and I'm trying so hard to get more into me each day. I used to think these flavor packets were a pretty stupid idea and then I started using them. I have to say that I use about 1/2 the amount they say to use per bottle of water and that's plenty of flavor for me, but they truly help me get all the water down each day. And yes, I know that I'm slow and the rest of America was already in love with these! =)
5. Huggable Hangers- What's not to love about this hanger? It's covered in velvet so even a spaghetti strap top will not slide off. It's thin and I SWEAR makes your closet bigger. You can buy clips to turn any of them into a skirt hanger. They're really lightweight but have no problem with a heavy winter coat. I'm a complete convert and love, love, love these hangers! You can buy these at Target or at the Container Store as well as many places online.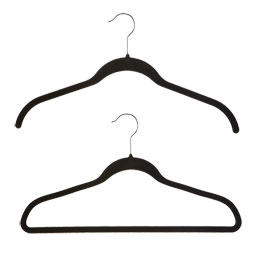 6. Tazo Chai Concentrate - Okay, I have NOT, repeat NOT abandoned Starbucks. However, every now and then I like to make a Chai Latte at home and this Tazo Chai Concentrate makes it a snap and sooooo close to a Starbucks one that I am rendered speechless and happy. I buy it at the super cool HEB that is not near my house, but I venture out to from time to time.
7. Maybelline Colossal Volume Mascara - Oh My Goodness!!! I really can have full eyelashes with the help of this Mascara. It does clump a little, so you have to be careful putting it on, but OH MY, it's worth the effort because the results are divine! I buy it at Target, like most things I own!
8. Grocery IQ App for iPhone or iTouch - So it's the app I probably use the most of everything I have (other than twitterific!). This is the grocery list app to beat all grocery list apps. It let's you have lists for different stores ( I have grocery, Target, penzey's and Spec's on mine!). It categorizes your list by aisles and lets you organize the aisles in the order they are in the store YOU shop in! Makes a grocery trip easy-peasy! Find it in the app store for $0.99 - best buck you'll spend this year!
9. Amazon.com's Kindle 2 - I know it was one of the hottest gifts for Christmas this year. It's got some more competition now, with the Barnes and Noble Nook, but I still love, love, love my Kindle. I got it last summer and find that I read more. I read faster. I enjoy reading more (if that's even possible!). Download the Classics for free. Download a newly released best seller for about $9.99 or download a book that's been around for a while even less. It's my friend. It goes with me everywhere. It also communicate with Kindle software on your iPhone or Computer to keep your last read location in a book up to date! Buy it from Amazon.com.
10. iSymphony Wireless Micro Speaker System with built-in iPod Dock - I bought this for myself at Costco, but it's available on Amazon.com as well. It's a little stereo that has an iPod dock, slot for cds as well as usb connection and sd card slots. The speakers are wireless - that's the best part, so you can easily move them based on what you're doing. It comes with 2 speakers but you can buy additional pairs of speakers and one system can have up to 20 speakers connected to it. For someone like me that doesn't like to run wires and figure all that out - it's perfect. Plus, it sounds great!!!
So, there you have it. There are about 10 other things that I'm loving right now, but I'll save those for another time...